|
home




We'd like to present a few of our success stories....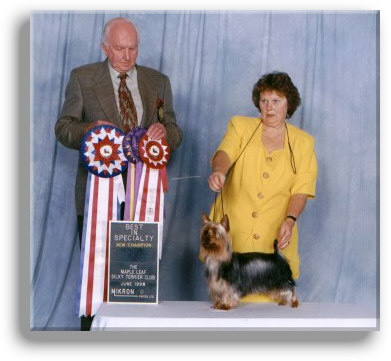 BISS. Ch. Hopepark Irish Jig At Tripaway
"Caitlin" made her show ring debut the day before at the all-breed show, winning WB, BOW & BOS for a 5 point win. At the next morning's all-breed show she went WB & BOW for another 3 points and then at the Maple Leaf Silky Terrier Club 1998 National Specialty in the afternoon took WB, BOW & BOB for 5 points to finish (in just 2 days) - from the classes at the tender age of 12 months and 5 days old.
"Caitlin" was owned at the time by Margaret & Frank Cartwright of Ontario.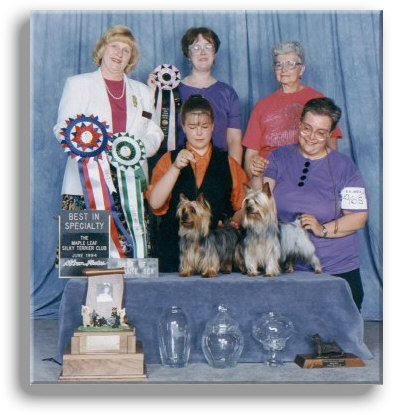 BISS.Ch. Hopepark Boutyme Sweet Success
&
Ch. Hopepark Gee Itsa Boutyme
Pictured winning Best In Specialty and Best Opposite Sex in Specialty at the 1994 M.L.S.T.C. National Specialty. "Molly Mouse" and "Sparky" are owned by Jacqueline Ambler of Saskatchewan.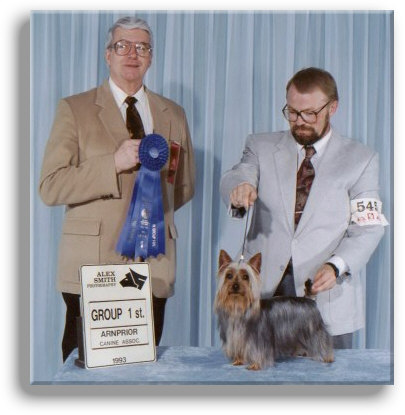 Can.Am.Ch. Lismore Hopepark Molly Malone
(co-bred with Marilyn Rodgers)
"Molly" is pictured with one of her many Group wins and placements that she earned during her career. She also became the Top-Winng Silky Terrier in Canada in 1993.
Owned by: Marilyn and Brian Rodgers of Ontario.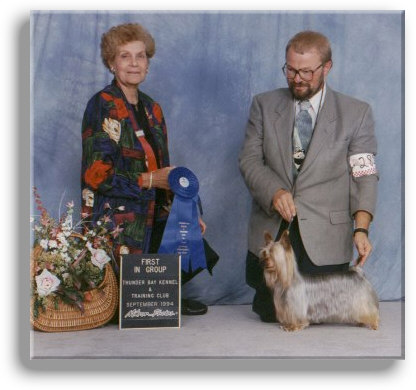 Can.Am.Ch. Lismore Hopepark Rilla
(co-bred with Marilyn Rodgers)
"Rilla" continued where her littermate Molly (above) left off...... she won consistently at the Group level and became Top-Winning Silky in Canada in 1994 and repeated the feat in 1995.
Owned by Marilyn & Brian Rodgers.

BISS.Ch. Sunkist Hopepark All That Jazz
(co-bred with Cynthia Austin)
"Herbie" placed regularly in group, and is pictured here winning the M.L.S.T.C.'s 1997 Regional (Western Canada) Specialty. Owner-handled by Cynthia Austin.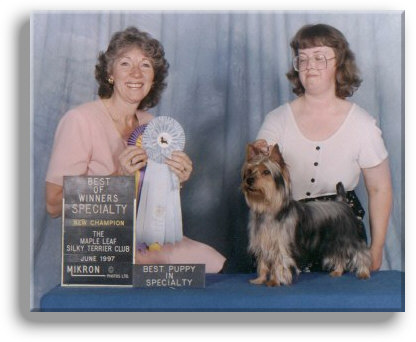 Ch. Hopepark National Hero
"Kaiser" was purchased as a pet, but they decided to try showing him - and boy were they glad they did! He is pictured winning WD & BOW and Best Puppy In Specialty at the 1997 Regional Specialty to finish his title at just 9 months old.
"Kaiser" is owned by the Harreman family.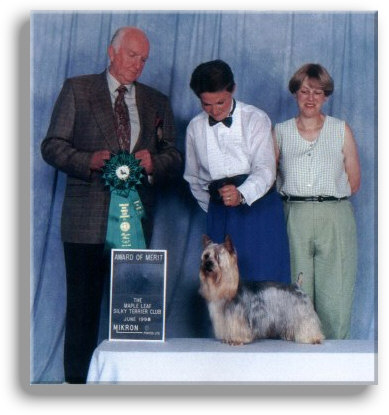 Ch. Hopepark Boogy Woogy Bugle Boy
"Hamish" was also purchased as a pet, but went on to win his share of group placements. He is pictured winning the Award Of Merit at the M.L.S.T.C.'s 1998 National Specialty.
"Hamish" is owned by Sheila McKendrick.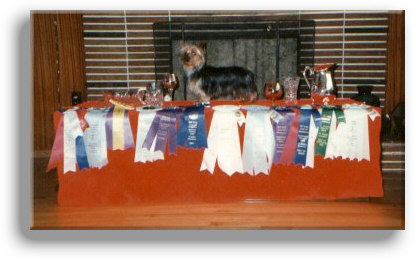 Ch. Hopepark Betsy Ross at Juno R.O.M.
"Betsy Ross" was a consistent winner (as you can see from the photo). She became the #2 Silky in Canada in 1998 .
Owned by C.Crocker.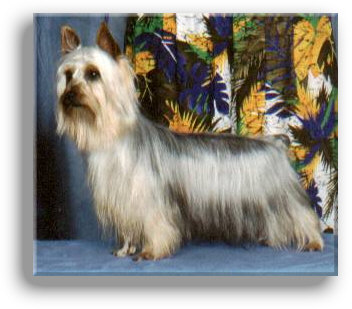 Ch. Hopepark Ifit Works Dont Fixit
This little girl wasn't a huge winner in the show ring... in fact she was only shown for two weekends. "Mitzi" had been originally sold to a poodle breeder/exhibitor on a co-ownership basis. Everything seemed to be going well, until 5 months later when we were told it wasn't working out and we could have her back - so we picked her up and brought her home. She was totally matted from head to toe, so badly that it took me 4 days (giving her breaks of course) to remove them all.
Once done, I entered her for two upcoming show weekends. Although her hairs were individually short and broken, as a whole the coat still gave a good impression. She is pictured here winning a Group 4th from the 9-12 month puppy class on the 2nd weekend out. She finished her title the next day.
Later I was told that the poodle breeder had called someone to ask how "Mitzi" had done at the show. When told she had placed in group and finished her Championship, the woman hung up.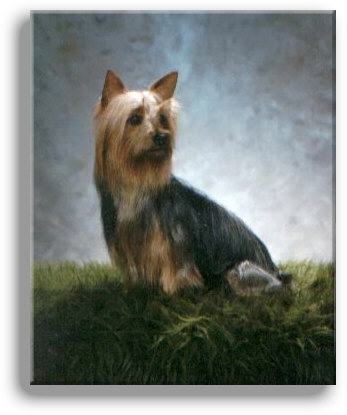 Ch. OT Ch, U-CD Hopepark's Naughty But Nice TDX, CGC, FD, AD, Am.CDX
"Gayna" is undoubtably the most diversified title-holding Silky in Canada. She has even herded sheep!
She was the Top Obedience Silky in Canada in 1989 and in 1990 as well as being the #4 Toy Breed in Canada in 1989. At 14 1/2 years old "Gayna" brought the spectators to tears during her go-round during the Parade of Title-holders at the 2000 national Specialty. Although virtually deaf, she performed an obedience routine to hand-signals while all her many, many accomplishments were read out loud. There were no dry eyes, the other exhibitors, the spectators - even the judge - all had tears running down their faces for this very special girl.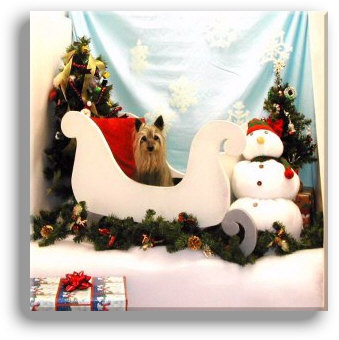 She was owned, trained, handled and always loved by Heather Somers of British Columbia.
Sadly, "Gayna" passed away in 2003 at over 17 years old. This picture was taken in December of 2002.... just 2 days before her 17th birthday.
She is sorely missed.